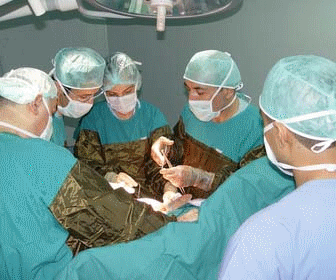 With state or private health systems in European countries struggling to maintain good services at a reasonable cost, Turkey, among other countries has become a prime destination for those requiring treatment or surgery.

Especially eye laser treatment and beauty operations attract many people to choose affordable alternatives in this part of the world. In addition, clients from Europe use the opportunity to have a holiday at the same time. Some travel agents have specialized in selling exclusively healthcare travel packages.

There is a vast market for these kinds of treatments and operations in Turkey and it is growing daily. A country, which only 7 years ago featured only 8000 hospitals is now a prime destination for Europeans who are either fed up with their own health services or simply can't afford the kind of surgery they want as local health insurances might not prepared to pay for beauty-related plastic surgery, so they take a medical tour to Turkey instead.

Doctors in some private Turkish hospitals have gone with the trend – they almost exclusively studied abroad and therefore speak at least one foreign language. Many of them are also approved by both Turkish and foreign health authorities and it is worth checking their credentials. The equipment used in these new hospitals is state-of-the-art technology, suitable to the clean and efficient environment of the surroundings. The staff is helpful, knowledgeable and efficient. All hospitals fall under the control of the Turkish Ministry of Health and their surgeons should be members the Turkish Medical Association and a professional institution of their specific field.

Treatments include the latest laser technology for correction of eye vision, making glasses and lenses unnecessary. The probably best known eye hospitals are run by "Dünya Göz Hastanesi" (World Eye Hospital) with 15 branches all across Turkey and the Netherlands, Belgium and Germany. Their website features information about treatments especially for tourists coming to Turkey in six different languages. Website: World Eye Center

IVF (In Vitro Fertility) treatment is available at a large number of specialized clinics in Turkey. Here, both the Acibadem Healthcare Group and the Yeditepe University Hospital count to the top hospitals in this field.

Dental Surgery is carried out by dentists who are members of the Turkish Dental Association and the Turkish Academy of Aesthetic Dentistry. There are clinics in Istanbul, Izmir and Alanya which provide both surgical services such as root canal treatment as well as cosmetic dentistry like tooth whitening. Imagine the looks you get upon return from your holiday not only showing off your sun tan, but also a line of matching white teeth!

Turkish specialists also supply a wide range of plastic surgery. There's practically a clinic for beauty operations in all major holiday centers such as Marmaris, Bodrum, Fethiye and any part of the body can be enhanced – from Botox to liposuction, hair transplants to thigh lifts, available for both men and women. Some hospitals have specialized in complete health travel and plastic surgery packages. Surgeons must be members of the Turkish Society of Plastic, Reconstructive & Aesthetic Surgery and have studied for six and a half years in addition to their time at medical school.

Some of the over 35 spas in Turkey also have an interesting treatment for a skin disease known as psilosis – doctor fish! Kangal near Sivas features this treatment among others. There are plenty of spas providing cure and relief for a series of external and internal illnesses and they tend to be located in good holiday locations all around Turkey.
For more information about spas of Turkey : Wellness spa and beauty centers of Turkey.

Finally there are the numerous beauty centers in Turkey. Turkish women have always been interested to improve and maintain their natural beauty and there are plenty of studios in every major city. In recent years new treatments and methods, sometimes originating from the Far East have found their place among more established services. The most traditional of these wellness temples is of course the original Hamam, where baths, shower, massage and sauna can all be enjoyed together. Most large hotels nowadays feature modern versions of these, refuting the old preconception of large men treating the visitor to a rough adjustment of body parts.

Nowadays the range of services is much wider, with aroma therapy, ayurveda and shiatsu among others.

Turkish private health facilities and hotels have found a new business field and are successful in filling a gap in the health and beauty market. Some travel agencies have therefore specialized in selling medical holidays in Turkey. In some cases, they might be associated to particular clinics.

Here is some agencies that arranges medical tours:
MdTravelHealth - www.mdtravelhealth.com
GlobalMedTravel - www.globalmedtravel.com
World Med Assist - www.worldmedassist.com